FA unveils details of Respect programme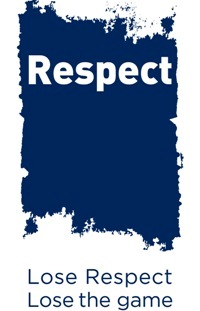 The Football Association today unveiled their plans for the Respect programme, a cross-game initiative dedicated to improving standards of behaviour at all levels of football in England.
Following a successful 10-week pilot at grassroots level last season, the programme will be implemented at all levels of the game in this coming season, encompassing respect towards match officials but also the conduct of overly-competitive coaches and parents on the sidelines at grassroots youth games.
Launched by FA Chief Executive Brian Barwick and heads of all the leading bodies in the professional game, including the Premier League, Football League, PFA and LMA, the programme represents a shared commitment to tackle this important issue.
The key message from the launch was that Respect was a long-term programme, not a short-term campaign, crucial to the long-term health of the game and, as such, will be taken seriously by all parties across the game to ensure that standards of behaviour are raised at all levels.
Following high profile incidents with the likes of Ashley Cole and Javier Mascherano last season, there were strong calls from fans and media for the professional game to get involved in this sort of initiative and now, for the first time, it appears that something is being done.
From this coming weekend, a range of new measures will be introduced throughout the professional game to improve the relationship between players and match officials and conduct in the technical area at the top end of the game.
These measures are:
1. Referees will work more closely with team captains to manage the game effectively, with captains asked to take more responsibility for the conduct of their teammates. Referees have also been instructed to deal firmly and effectively with open dissent.
2. Pre-match meetings will take place between referees, captains and managers or their assistants, giving referees the chance to explain how they will work with captains to manage the game and build a relationship between themselves and the captains to to help manage the game.
3. Players will enter the field of play together and shake hands prior to kick-off. This is already happening in the Premier League and is now being adopted by the Football League and all FA competitions for the coming season.
4. Measures will be taken to improve behaviour in the technical area, particularly in connection with managers berating officials. Any public displays of dissent to officials will involve dismissal to the stands.
A rollout to the grassroots game will follow, where the same referee-captain relationship will be introduced and the same attitude to dissent employed.
The FA will provide a Respect toolkit to any leagues that want to become part of the programme, containing codes of conduct, guidance notes and access to touchline barriers. County FAs will work with their leagues to introduce these measures throughout the coming season.
Brian Barwick said: "I'm delighted that the whole game is working together on this issue.
"There is a general agreement that something has to be done to improve levels of respect, for the game's long-term health.
"There is a lot to do and we accept that changes of culture don't happen overnight. However, this is a really important programme for the long term health of the game.
"Football has a unique ability to connect with people and we in football ultimately have a responsibility to ensure that connection is truly positive one. I am personally behind this 100 per cent."
Respect campaign video
To support the launch of the Respect programme, the FA has launched a light hearted viral film featuring various celebs and ex-pros trying to play a game of football without a referee.
The film, which features Premier League referee Howard Webb and a cameo from England boss Fabio Capello, attempts to highlight how essential referees are to our game.